Time Off Types
While creating time off requests in the Legal Office Time Off module, it is important to mention the Type of Time Off. It is easy to configure various Time Off Types in this module. From the Configuration menu of the module, you will get access to the Time Off Types platform.

As you can see in the image above, the Time Off Types window will display all configured types along with the Display Name and Company. You will also get the Kanban view on this platform. Now, click on the 'Create' button to create a new Time Off Type.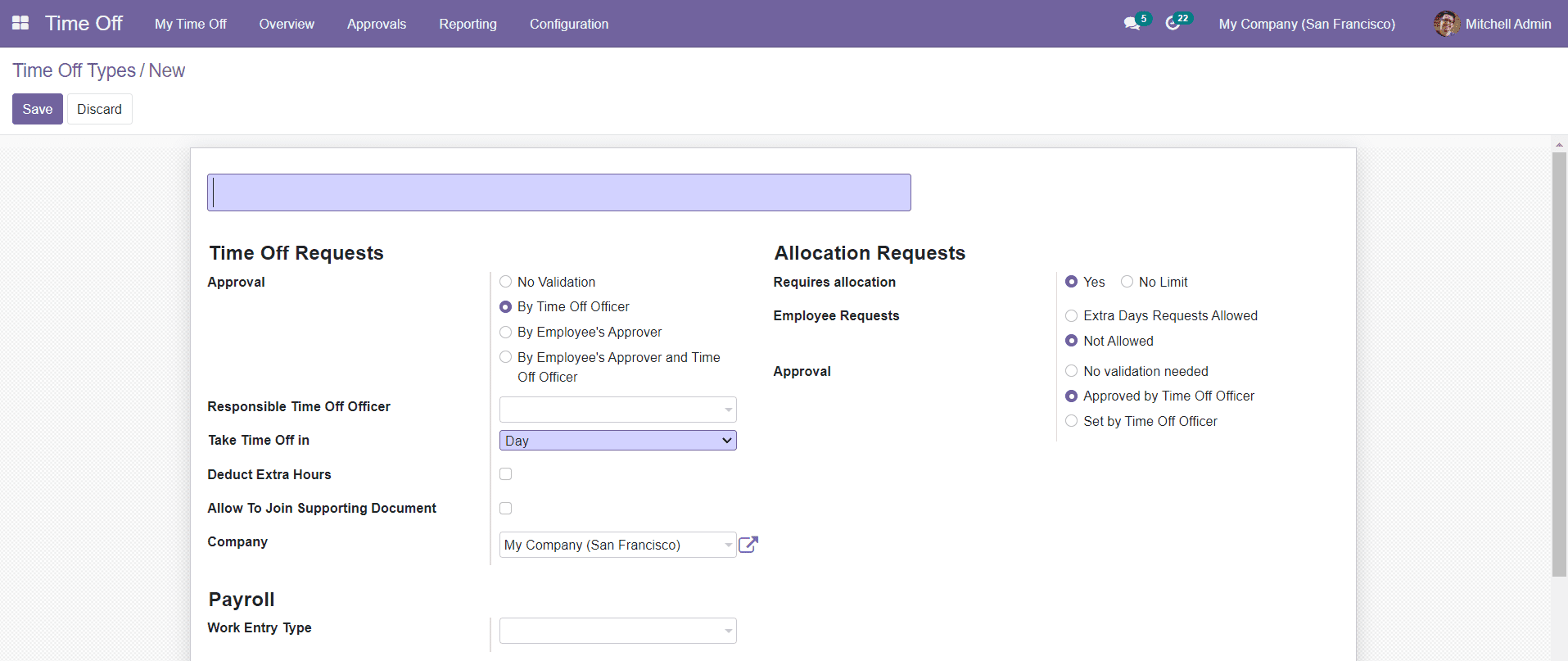 In the new Time Off Type creation window, add a title for the type of time-off. In the Approval field, you can define who grants permission for the time-off requests. You can select the No Validation option if no validation is needed for requests or you can select the By Time Off Officer, By Employee's Approver, or By Employee's Approver and Time Off Officer . One can also set double approval for time off approval
In the Allocation Requests tab, you can decide whether Request Allocation is needed or not. Here, you can select the No Limit option to set no limits over the time off requests and the user can freely request time off. You can set Employee Requests to allow Extra Days Requests under the Allocation Requests tab. In the Approval field, define who approves the allocation request. In the Responsible Time Off Officer, you can mention the officer who will approve allocation and time-off requests. The 'Take Time Off In' field can be used to mention whether the time off is a full day or half-day.
By activating the Deduct Extra Hours field, extra hours in attendance will be deducted once a time off of this type is approved. Activate the 'Allow To Join Supporting Document' to add this time off type to the supporting document. In the Payroll tab, mention the Work Entry Type.

The Display Option can be used to select a suitable color and cover image for this particular Time Off Type. To save the Time Off Type, click on the 'Save' button.
Now, let's look at the Accrual Plans in the Legal Office Time Off module.
Views

1

Total Views

1

Members Views

0

Public Views