New Expenses
You can easily create new expenses by clicking the 'Create' button from the 'All My Expenses' dashboard.

You will get a new window where you can add details about your new expense.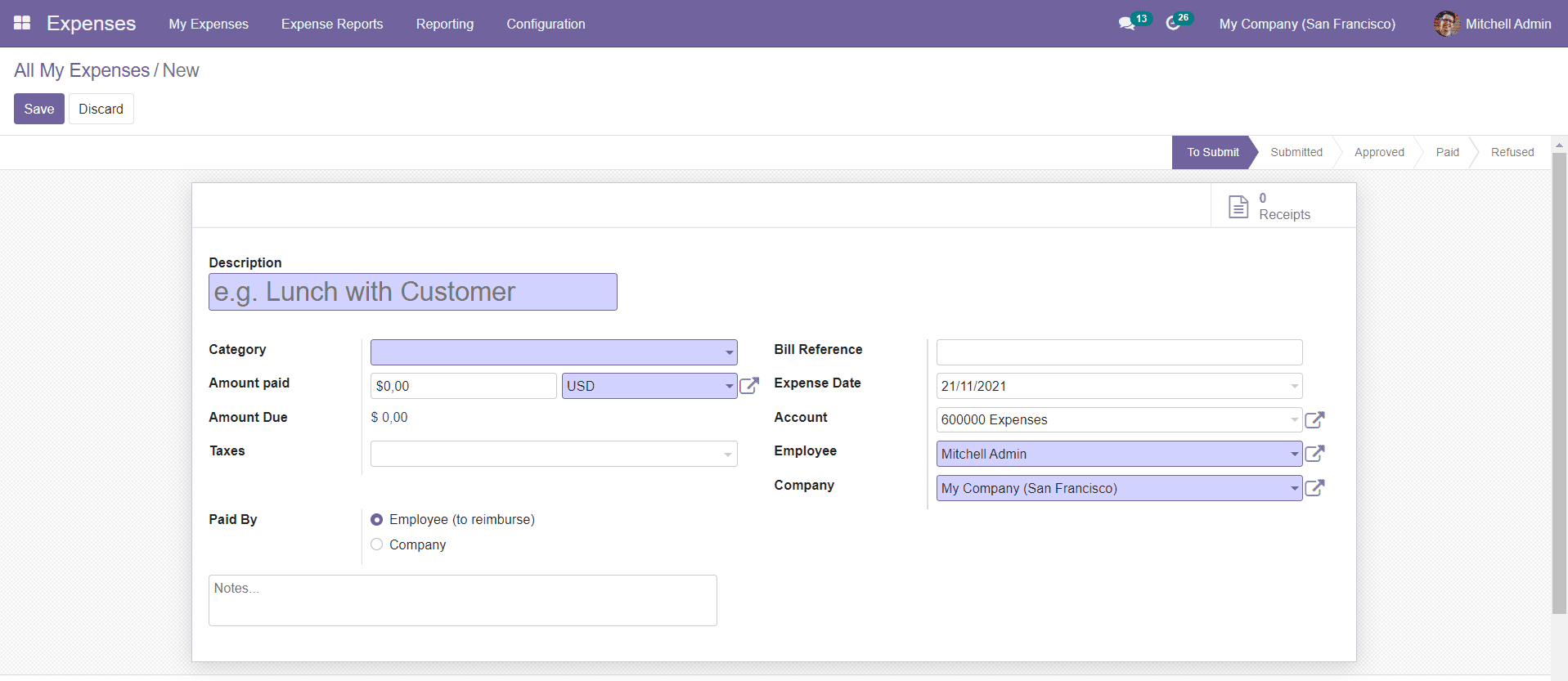 You can mention the Expenses title in the Description field and select the Category of expense from the drop-down menu. In the Amount Paid field, you can specify the amount spent by you for this expense. Mention the Tax for this expense in the Taxes field. In the Paid By field, you can mention who paid for this expense. It can be either Employee or Company. Specify the Bill Reference and Expense Date in the respective fields. In the Account field, you can specify an expense account. The name of the employee who creates this expense and Company can be seen in the corresponding fields.
If you want to add any additional notes to the expense, you can mention them in the Notes field. After this, you can click the 'Save' button to save the Expense. After saving the Expense, you will get the option 'Attach Receipt' which can be used to add receipt of the expense to the system.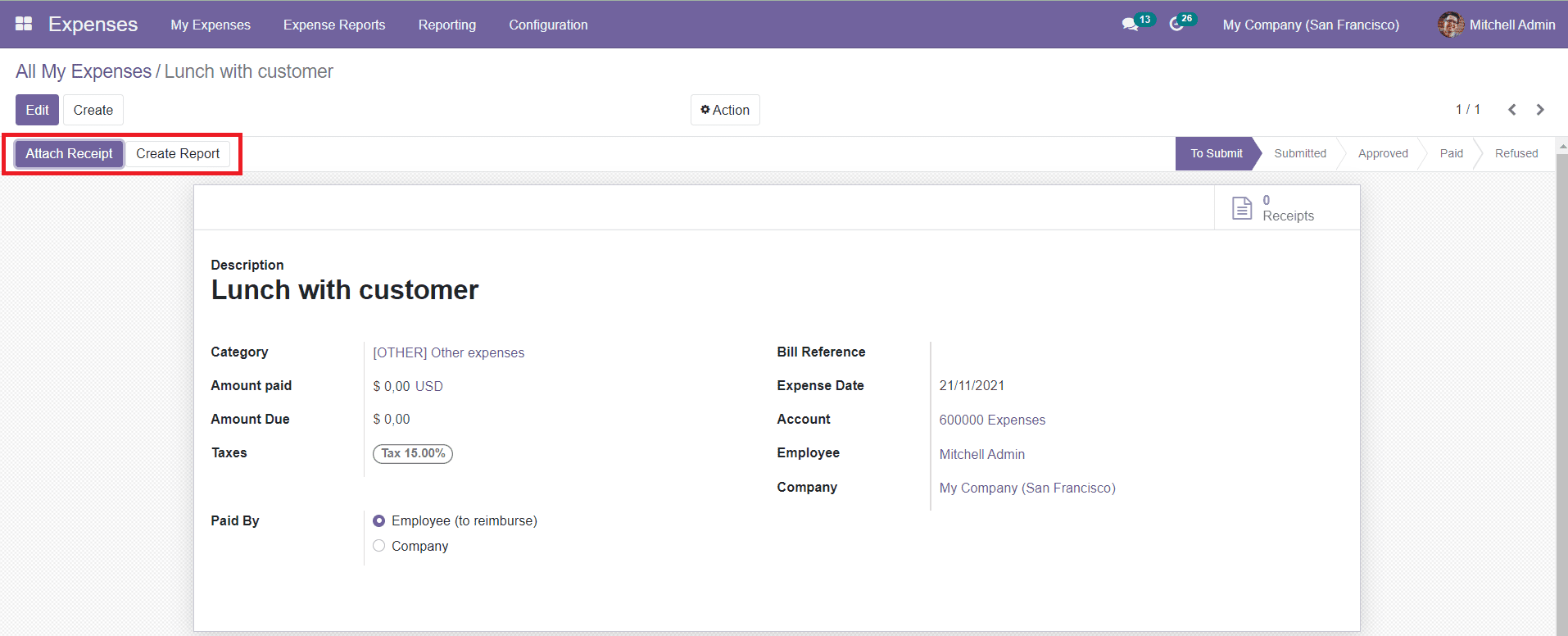 The 'Create Report' button will help you to create the report of this expense. By clicking the 'Create Report' button, you will get the Expense Report Summary as shown in the screenshot below.
You can mention the manager to whom you are submitting this report in the Manager field. Then, click the 'Submit to Manager' option to submit the report for approval.
Now, the manager can Approve, Refuse, or Reset the report to Draft.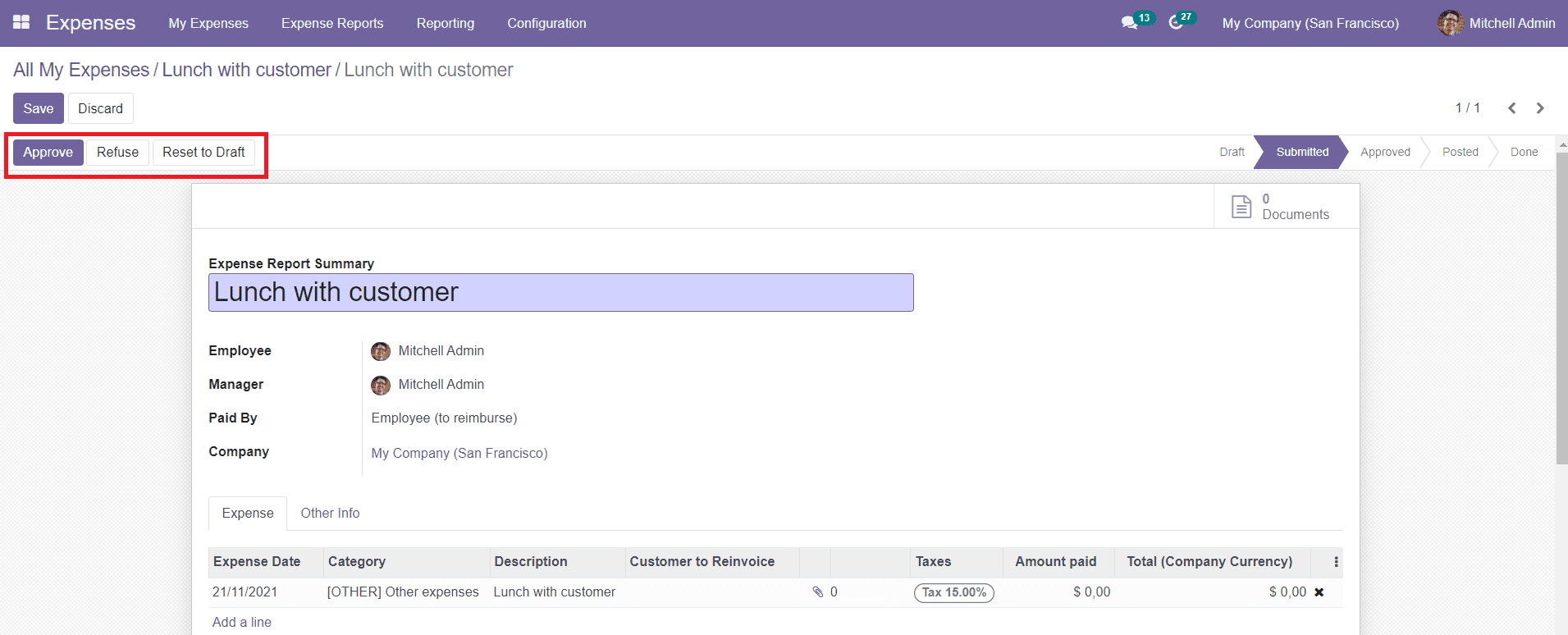 If the expense report is approved, the manager can click the 'Approve' button to proceed with the payment procedure.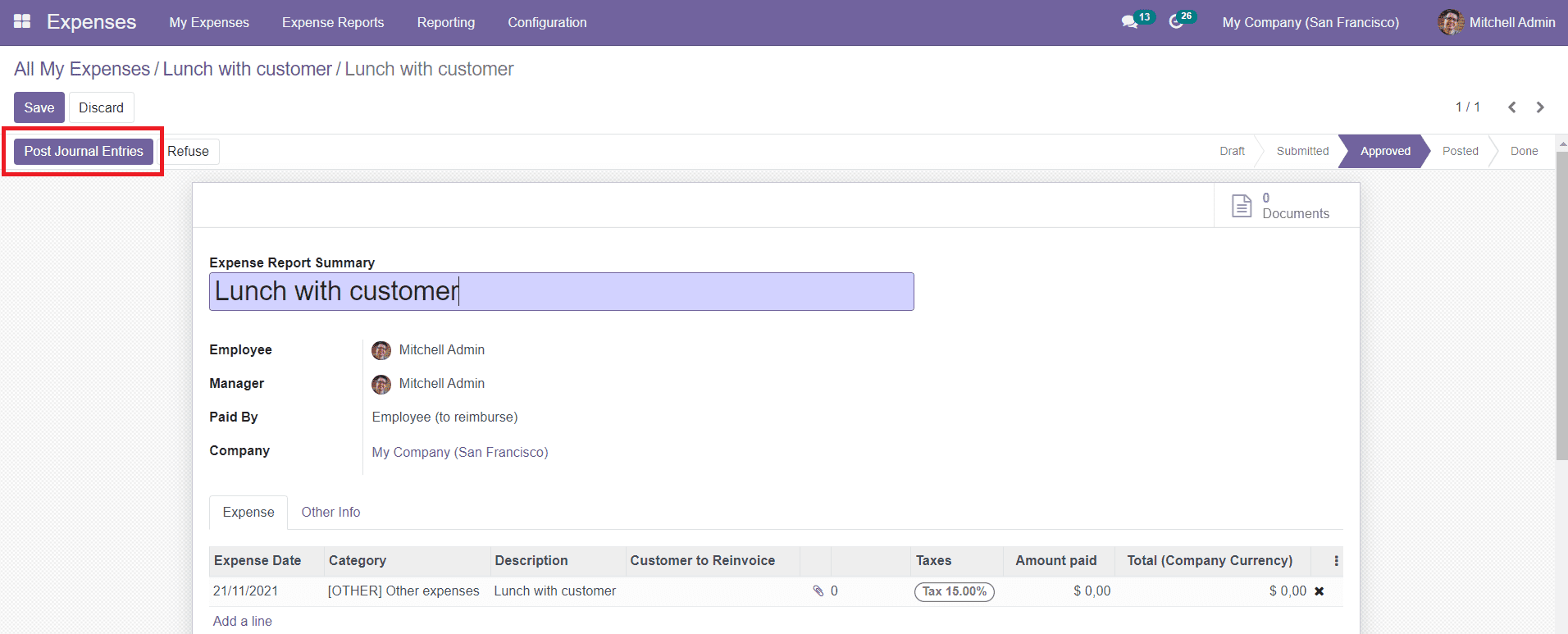 Use the 'Post Journal Entries' option given in the window to post journal entries for this expense report.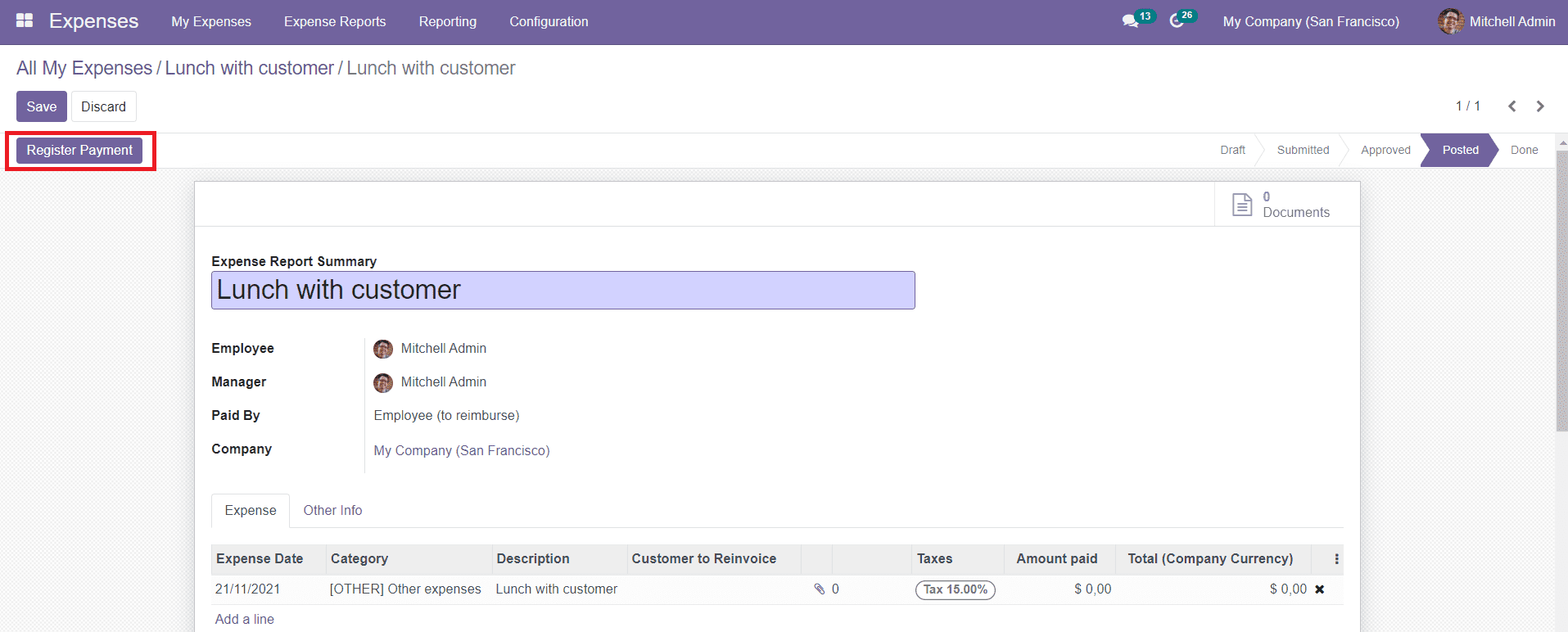 Now, the manager can register payment by clicking on the 'Register Payment' option.

Here, a pop-up window will appear to specify the Journal, Payment Method, and Recipient Bank Account. By clicking the 'Create Payment' button, the specified amount will be credited to the recipient's account and the status of the Expense report will be changed to 'Paid' as shown below.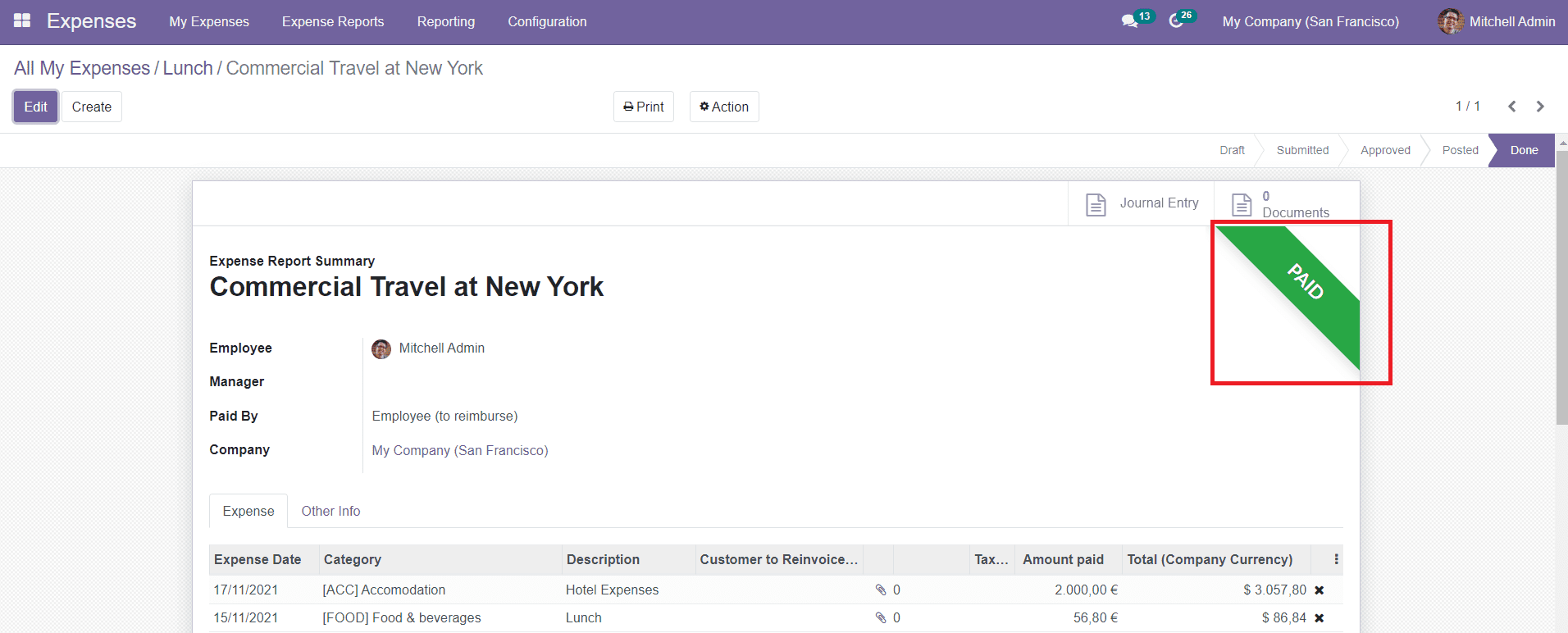 This is how we create new expenses in the Legal Office Expenses module.
Views

1

Total Views

1

Members Views

0

Public Views