Challenges
The challenges option in the Legal Office Employee module is also created for improving the working spirit of the employees within a company just like the Badges option. Using this option, Legal Office will allow you to create various challenges for the employees. You can set certain rewards for them after completing the challenge and achieving the goal.

You will get the Challenges option from the Configuration menu of the Employee module. As you can see in the image above, the platform will show all challenges created in this module. You can click on the 'Create' button to create a new challenge for your employees.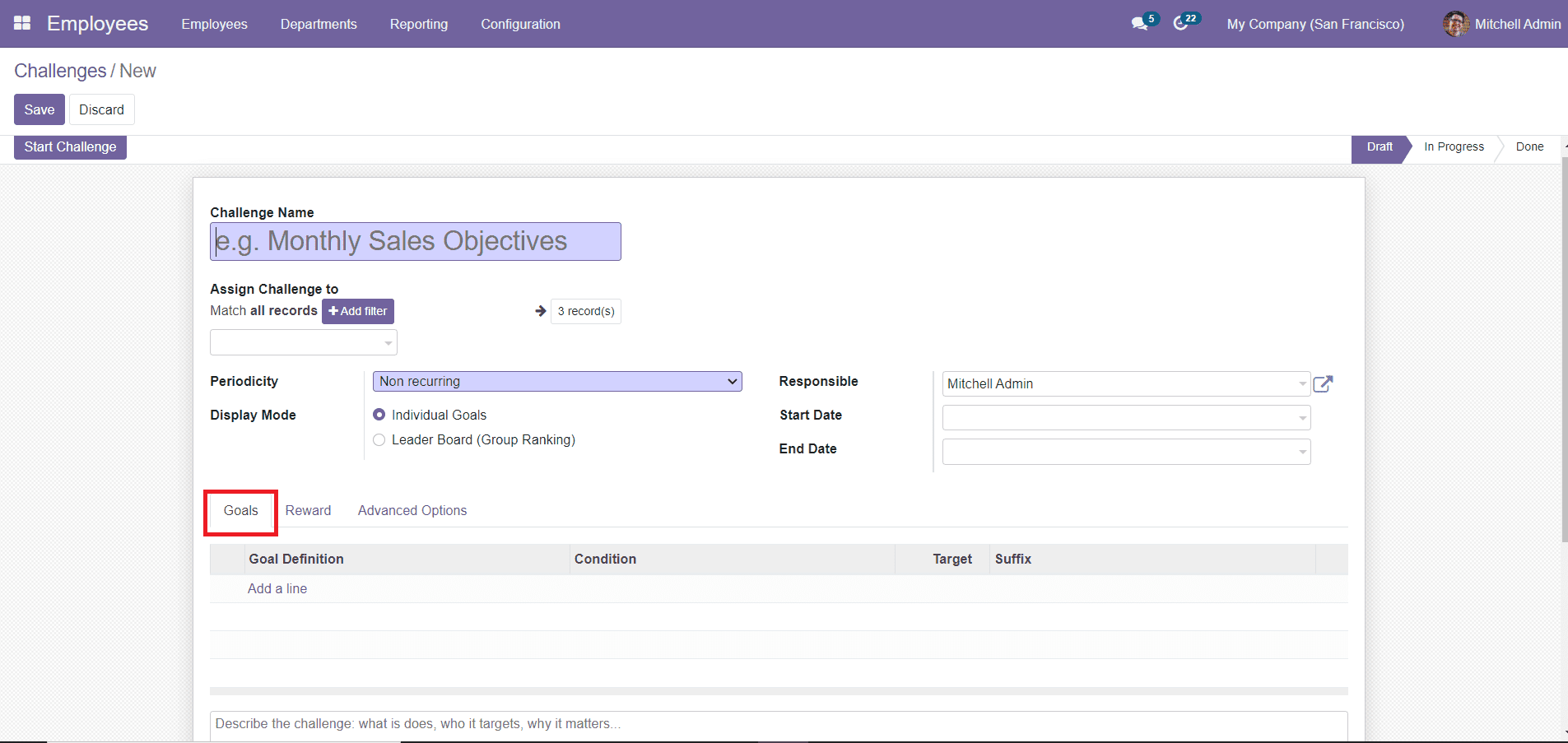 In the new Challenge creation window, you can mention the Challenge Name in the given field. You can add the list of users participating in the challenge in the Assign Challenge To field. The Periodicity field can be used to define the period of automatic goal assignment. It can be Daily, Weekly, Monthly, or Yearly. If none is selected the challenge should be launched manually. You can set the Challenge as Individual Goals or Leader Board in the Display Mode field. By this, you can define whether it is an individual or group task.
Mention the user responsible for this challenge in the Responsible field. The Start Date will determine the day on which the challenge will automatically start. If no Periodicity is set for this challenge, then Legal Office will use this date to start the challenge. The End Date will determine the day on which the challenge will automatically close. In the Goals tab, you can set the list of goals for this Challenge using the 'Add a Line' option. Mention the Goal Definition and Target in the respective fields. You will also get a description box to describe the new challenge.
You can set the rewards for the challenge in the Reward tab.

From the drop-down menu, you can set rewards for Every Succeeding User and 1st User. You will get an additional option to activate which is 'Reward as soon as every goal is reached. By enabling this option, the user will be rewarded as soon as he reaches his goal.
In the Advanced Options tab, you can set Subscriptions, Notification Messages, and Reminders for Manual Goals.

In the Subscriptions option, you can add users in the Suggest to Users section for suggesting this challenge to subscribe. In the Report Frequency section, you can set the Notification Messages for users. Depending on the Display Mode you selected, the reports will be individual or shared. You will also get the fields to set reminders for manual goals. The non-updated manual goals will be reminded after the specified number of days.
After completing all fields, you can click the 'Save' button to save the new Challenge.

Now, you can click on the 'Start Challenge' button to start the challenge.
Views

1

Total Views

1

Members Views

0

Public Views